Reach your health goals by giving you rewards and discounts.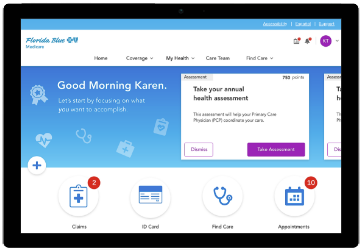 My Health Link™ for Members
Medicare Advantage members can manage their account and much more through our helpful and innovative online member portal.
• Personalized online health and wellness information and education
• Access your Health Living Plan for important health and wellness reminders.
• Create an online "care team" and invite loved ones and caregivers to help manage your health care
• View gift card rewards opportunities.
And more!
Call Florida Blue for help with your Medicare plan.
Call Member Services
1-800-926-6565 (TTY 1-800-955-8770)
8 a.m. - 8 p.m. local time, 7 days a week, from Oct. 1 - Mar. 31, except for Thanksgiving and Christmas.
From Apr. 1 - Sept. 30, we are open Monday to Friday, 8 a.m. - 8 p.m. local time.