Plans as low as $0 with $0 copay for doctor visits at Sanitas!1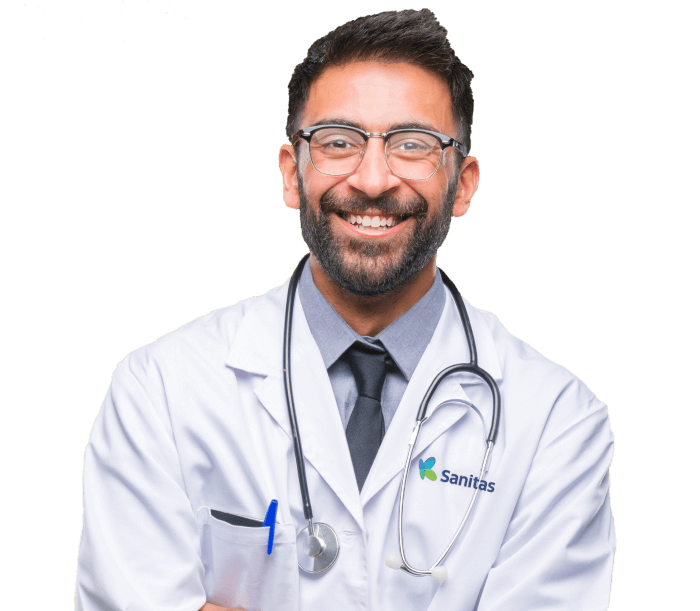 System Error. Please Try again later submission failed
Better coverage, better medical care, better together. Florida Blue and Sanitas Medical Center. Better together.
System Failure
something went wrong. please try again later
Thank you for submitting your information.
to choose Florida Blue and Sanitas for your coverage
| | |
| --- | --- |
| | Plans as low as $0 a month |
| | |
| --- | --- |
| | $0 copay for unlimited in person primary care and two urgent care visits at Sanitas |
| | |
| --- | --- |
| | We pay you! Up to $500/ year toward your premium in health and wellness rewards |
| | |
| --- | --- |
| | 24/7 virtual visits and connected care using the mySanitas app for $0 |
| | |
| --- | --- |
| | Get care whenever you need it, from wherever you are |
| | |
| --- | --- |
| | Sanltas dedicated care team of doctors, nurses and care coordinators |
Convenient care in-person or at home, with Sanitas.
Get primary and urgent care, telehealth, lab and imaging all in one place––for the whole family. Plus, 24/7 virtual doctor visits, late and weekend hours at 36 Sanitas locations statewide.
Plans are more affordable than you think.
We take the time to understand your needs, goals and budget, so it's simpler for you.
You can use your plan at Sanitas and get $0 copays.
*By providing your email address, you agree to allow Florida Blue to send you advertising and promotional information via email. By submitting your other contact information, you agree to allow a licensed agent to contact you.
1These policies have limitations and exclusions. The amount of benefits provided depends upon the plan selected and the premium may vary with the amount of benefits selected. To be eligible for $0 monthly cost, your Marketplace monthly advance premium tax credit must equal to or be more than the premium. Sanitas Medical Center is a Value Choice Provider, a designation Florida Blue gives to some in-network providers including Sanitas. Primary care and urgent care visits at $0 do not apply to Health Savings Account (HSA) plans; the deductible will still apply. A total of two (2) urgent care visits are $0 for non-HSA plans regardless of which Value Choice Provider rendered services. After that, the urgent care cost share applies. Sanitas is an independent medical center, serving people insured by Florida Blue (or other Blue Cross Blue Shield plans), original Medicare or self-paying for medical treatment. Rewards available for individual ACA members 18 years or older. Reward amounts will apply to premiums and excess amounts may be redeemed subject to the reward program's terms and conditions.
Health insurance is offered by Blue Cross and Blue Shield of Florida, Inc., DBA Florida Blue. HMO coverage is offered by Health Options Inc., DBA Florida Blue HMO. Dental, Life and Disability are offered by Florida Combined Life Insurance Company, Inc., DBA Florida Combined Life. These companies are Independent Licensees of the Blue Cross and Blue Shield Association.
You may access the Nondiscrimination and Accessibility notice here.
Language services: Español, Kreyol Ayisien, Tiếng Việt, Português, 中文, français, Tagalog, русский, العربية, italiano, Deutsche, 한국어, Polskie, Gujarati, ไทย, 日本語, فارسی
©2020 Blue Cross and Blue Shield of Florida, Inc. DBA Florida Blue. All rights reserved.