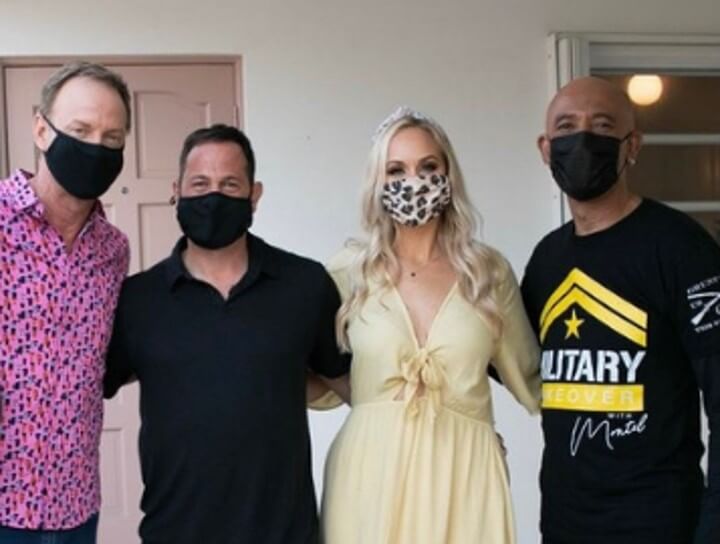 Florida Blue sponsors 'Military Makeover with Montel' in transforming the homes and lives of veterans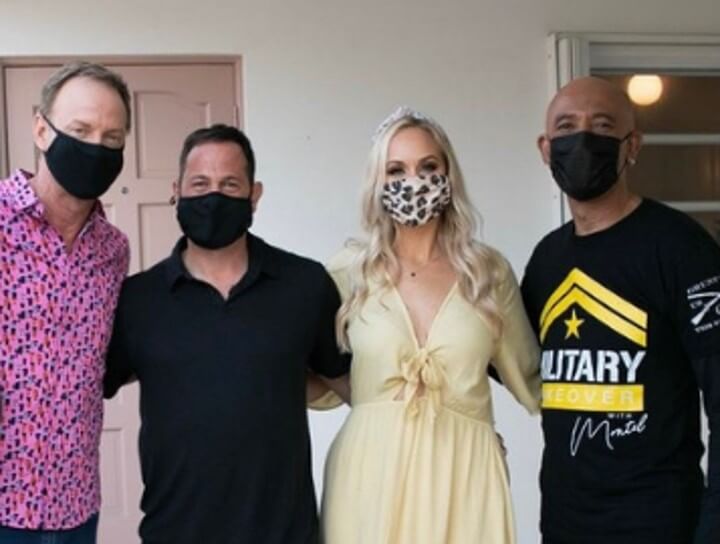 July 08, 2021
As Michael and Heather Daniels made their way down the street to their Deerfield Beach home, they knew they were heading into a life-changing moment. One that was a way to help honor them for their service. Both are heroes in their own right.
Michael joined the Marine Corps shortly after the Sept. 11 terrorist attacks. He served two tours in Iraq, including in the initial invasion into the country. He came home disabled and with stories that are painful to remember.
Heather's nursing career began in March 2020, about the time COVID-19 began to wreak havoc in Florida. The pandemic reminded the world that some heroes wear nurse's uniforms, especially those who worked in COVID-19 units.
The couple was about to see the magic the crew from the Military Makeover television show had worked in their two-bedroom house. The Lifetime television show works with corporate partners, like Florida Blue, to help military families get the home of their dreams.
Florida Blue's commitment to veterans
Last year, Florida Blue workers helped work on the home of Debbie Hixon, whose husband was killed in the 2018 shooting at Stoneman Douglas High School. This year, South Florida Market President Penny Shaffer helped make sure COVID-19 safety protocols were followed.
"In the middle of a pandemic, we didn't want to see this work stop," Shaffer said. "So, we had to figure out how to make sure we could do it safely. So, if you think about all the pandemic rules, they all apply on this worksite."
Dr. Elana Schrader talked with the show's host about Florida Blue's commitment to veterans, through Florida Blue's employee resource group, VetNet, which participates in programs like Treat a Troop to provide supplies to active duty personnel overseas. She also mentioned the company's work with Warrior Mission: At Ease retreats, which she said focuses on community awareness about behavioral and psychosocial health, family orientation and integrating veterans back into the community.
Schrader said programs like that allow Florida Blue to live out its mission of helping people and communities achieve better health.
Ready for the big reveal
Michael and Heather stayed in an Airbnb for the 11 days it took to transform their two-bedroom house. When they arrived for the reveal, their view was blocked by a large crowd. The first surprise was waiting for Michael in the crowd: He finally got to hug his mother for the first time in more than a year, a separation caused by the pandemic.
When Michael and Heather got their first peek at their home, it was overwhelming. The bright yellow exterior had been covered with a fresh coat of white paint. The once-plain front yard was beautifully landscaped with a palm tree and other plants.
The inside transformation was even more astonishing, leading to several hugs, squeals of excitement and some happy tears. Luxury vinyl wood flooring, fresh paint on the walls, new furniture throughout and a renovated kitchen with new appliances for the couple, who love to cook together. Renovated bathrooms and an outdoor entertaining area with a firepit are some of the countless other new features of the home.
The firepit area is where host Montel Williams and others from the show watched as Heather and Michael received the final surprise. Because of the pandemic, the couple didn't get to go on their honeymoon. To make up for that, they received a free trip anywhere in the world from Atlas Ocean Voyages.
The gift was presented by two company employees who served in the Marines. Two men who understand the sacrifices made by military families like Michael and Heather.