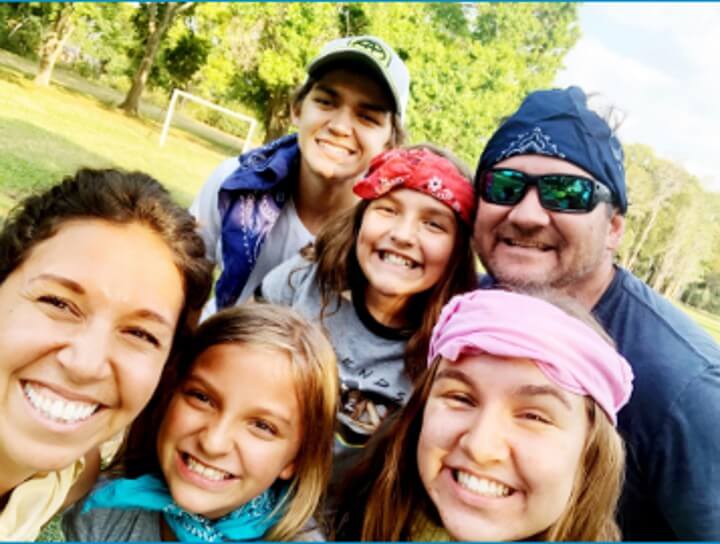 Busy Mom Stays Healthy to Take Care of Her Family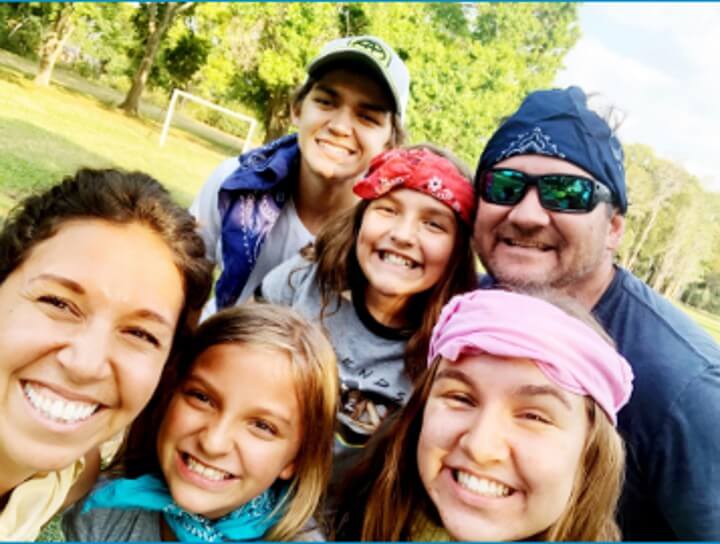 September 28, 2020
Before the sun rises, Marisa Langford likes to take a walk with Buddy, her family's 3-year-old labradoodle. It's often the calm before the start of her busy day as a mother of four, wife, full-time national partnership manager and popular mommy blogger.
The walk is also one of things she does to stay healthy for herself and her family. Langford and her husband Chance's children range in age from 7 to 15. Three of the kids have an autoimmune condition and the fourth has Type 1 diabetes. Fortunately, their conditions can be managed through medications.
That's why Langford makes sure she gets plenty of exercise, eats healthy, gets her annual checkups and keeps her stress in check. "I know it is my health and my husband's health that I need to be extra concerned about because they (the children) need us to take care of them," said Langford, who lives in Tampa.
Moms are the compass that keep a family headed in the right direction, the caretakers who nurture everyone else. It's a task made even greater as COVID-19 has kept people home for months. Moms often put themselves at the bottom of the list when it comes to eating right, getting enough rest and getting their annual exams. But that selflessness can impact their health and ultimately, their family.
Langford, 41, is careful not to let that happen. Here are some of the ways she makes sure she stays healthy:
Exercise: The Langford family's big backyard is the ideal place to mix exercise and fun. There's a pool, a soccer goal and more than enough room to toss a ball and play with Buddy. They also take family walks. Langford is a runner, who has several half-marathons and one full marathon under her belt. The latter came when she was 39 and in "amazing" health. "My ankles were good, my knees were good, my heart was good. I wasn't battling any chronic diseases," she said. "When would I have the chance to do it again?"
Eating right: It's not unusual to see a crowd in the kitchen as the family prepares meals. "We do a lot of cooking as a family," Langford said. She enjoys experimenting with healthy recipes and focuses on more meaningful dishes, like a salmon salad for lunch or a slow-cooker meal for dinner.
Annual checkups: Many mothers focus on getting their children and spouse to the doctor for checkups, but don't make it there themselves. Langford makes annual checkups a priority for herself and her family. "That's something I don't like to fall behind in," she said.
Stress: Taking care of her family, working full-time and writing her blog can be a lot. It often means work spills over into nights and weekends. But that's OK for her. "Work is sometimes my stress reliever," Langford said of her job with GoGo squeeZ, which sells natural snacks for kids. So is writing her Tampa Mama blog, which she started in 2004 as a way to share photos of her first child with her mother. "My mom would not stop asking me for pictures," Langford laughed. Her blog has developed a strong following, particularly on Twitter and Instagram.
Langford said having the safety net that a health plan provides to keep her and her family healthy is critical. Most Florida Blue plans include annual checkups, screenings and vaccinations at no extra cost. Moms need to find time to get those done for themselves, including their breast cancer, osteoporosis and gynecological exams.
"Maintaining your own health and wellness as head of any household is just as important as putting food on the table," Langford said.