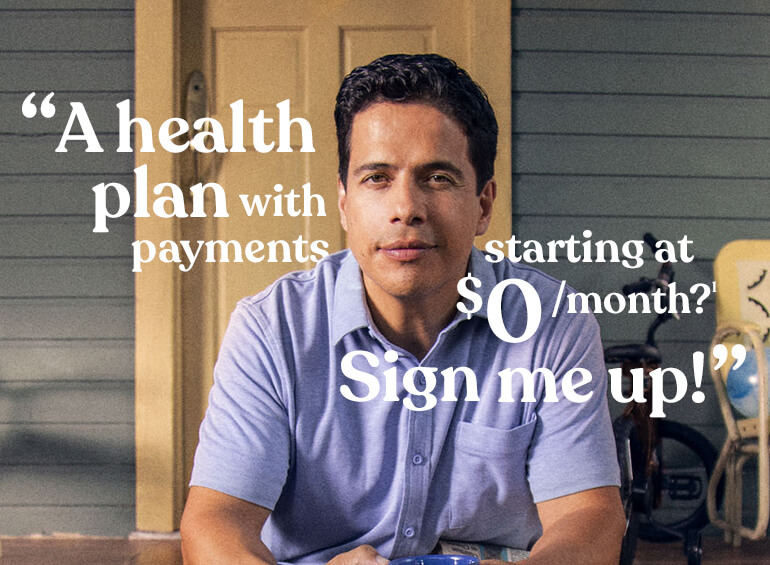 Open Enrollment has been extended! Enroll by January 15 and have coverage starting February 1.
We offer many affordable options, including a Silver plan with $0 monthly payments for those who qualify.1
This year, an exciting new option is coming to Miami-Dade. The myBlue Connected Care plans, offered by Florida Blue HMO, makes managing your health easier.
System Error. Please Try again later submission failed
Fill out the form below and an agent will contact you.
System Failure
something went wrong. please try again later
Thank you for submitting your information.
Many Florida Blue plans come with these great benefits:
Plans with payments as low as $0 a month, if you qualify, including a Silver plan option

$0 virtual visits 24/7

An extensive network, including over 3,000 primary care doctors and specialists in Miami-Dade

Low to no out-of-pocket costs for doctor's visits, labs, X-rays and generic prescriptions

Up to $500 in rewards for staying healthy2
Get more convenient care with myBlue Connected Care
Bilingual doctors near you
Ask real-time questions to Care Team members who speak English and Spanish.
Keep out-of-pocket costs low
Pay $0 for virtual visits with primary care doctors and behavioral health specialists and for in-person visits at a Value Choice Provider.3 Plus, over 150 generic medications for less than $5.
Your doctor comes to you 24/7 - via video chat, messaging and phone calls. Or visitor your doctor at the office, right in your neighborhood and with extended hours.
With a single mobile app, you can set doctor appointments, chat with care specialists, make 24/7 virtual appointments, check your health care plan benefits, text or speak with your doctor, participate in wellnes programs, and more.
Get two in-person urgent care visits at no additional cost.4
Our exclusive agents are here for you.
Have a question or need help enrolling? Our English and Spanish speaking agents can provide answers and walk you through every step of the enrollment process. They can help you balance your monthly payment with the coverage you need or even find a plan with no monthly payment, if you qualify. Plus, only our exclusive Florida Blue agents can tell you how to get extra services and savings that only Florida Blue members receive once enrolled.
1To be eligible for $0 monthly cost, your Marketplace monthly advance premium tax credit must be equal or more than the premium.

2Rewards available for individual ACA members 18 years or older. Reward amounts will apply to premiums and excess amounts may be redeemed subject to the reward program's terms and conditions.

3Value Choice Provider is a designation Florida Blue HMO gives to some in-network providers, including Sanitas.
4Urgent care visits at $0 do not apply to Health Savings Account (HSA) plans; the deductible will still apply. A total of two (2) urgent care visits are $0 for non-HSA plans regardless of which Value Choice Provider rendered services. After that, the urgent care cost share applies.
The amount of benefits provided depends upon the plan selected and the premium may vary with the amount of benefits selected. These policies have limitations and exclusions.
Health insurance is offered by Blue Cross and Blue Shield of Florida, Inc. DBA Florida Blue and HMO coverage is offered by Health Options, Inc. DBA Florida Blue HMO. Both companies are Independent Licensees of the Blue Cross and Blue Shield Association.
We comply with applicable Federal civil rights laws and do not discriminate on the basis of race, color, national origin, age, disability or sex.
ATENCIÓN: Si habla español, tiene a su disposición servicios gratuitos de asistencia lingüística. Llame al 1-800-352-2583 (TTY: 1-877-955-8773).
ATANSYON: Si w pale Kreyòl Ayisyen, gen sèvis èd pou lang ki disponib gratis pou ou. Rele 1-800-352-2583 (TTY: 1-800-955-8770).